DIRECTIONS
DIRECTIONS to Chincoteague Island and CatBird's Nest
Chincoteague and Assateague Islands are just a short car trip from the DC/Baltimore/Washington/Philadelphia metropolitan areas. Just follow Route 13 on Virginia's Eastern Shore to Route 175 East, and that will bring you right onto Chincoteague Island.
Directions to CatBird's Nest
Follow Route 175 East until you cross over the drawbridge and come to the traffic light on Chincoteague Island. Stay in the right hand turning lane, and turn right onto Main Street. Travel on South Main Street until you come to Bunting Road. Turn left onto Bunting Road and at the end of Bunting Road, bear right onto Ridge Road. CatBird's Nest is located at #3515 Ridge Road and is on the right hand side.
Mileage to Chincoteague Island
New York City.........276

Cape May, NJ..........122

Philadelphia............192

Washington, DC.......172

Baltimore.................167

Salisbury, MD........... 49

Richmond, VA...........176

Norfolk, VA............... 85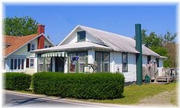 Directions to the Beach
Turn left out of CatBird's Nest driveway onto Ridge Road. Continue on Ridge Road until you come to East Side Drive/Church Street intersection. There is a "dog leg" there. Cross over East Side Drive/Church Street and continue on Chicken City Road. At the first traffic light, turn right onto Maddox Boulevard. Continue on Maddox Boulevard right into the National Seashore. Please drive carefully to avoid killing any wildlife.