Photo 6 - The Bridge
Photo 6 - The Bridge
In October 2010, the new bridge was dedicated. People came from miles around to say goodbye to the old iron bridge over Marsh Island and take a piece of the old bridge with them. Soon the old bridge will be nothing but a memory.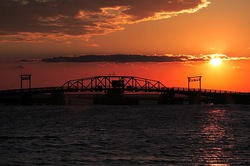 The sun sets one last time over the old iron bridge which served Chincoteague so well for so many years.
Construction was long and arduous. Shown above: the new bridge with the "gate" drawn to allow fishing boats and Coast Guard ships to pass. The old iron bridge can be seen in the background.
Closer view of the "drawn" bridge. Construction was completed by American Bridge Company.
Bird's eye view of the new bridge under construction.
Rare photo showing the old swing bridge allowing a fishing boat to pass through. The bridge was built in 1940, and while assumed to be safe, it was showing signs of stress.
The new bridge, completed July 30, 2010, by American Bridge Company for VDOT.
New bridge showing the operator's quarters.

Panoramic view.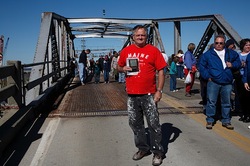 Among the many people who came to the October 2010 dedication was our neighbor and local historian, Dino Johnson.